According to the Bureau of Labor Statistics, transportation incidents are the No. 1 cause of death in today's workplaces. In 2014 (the most recent year for which data is available), 1,891 workers were killed in transportation incidents. That represented 40 percent of all fatal workplace injuries. Roadway incidents and pedestrian vehicular incidents accounted for most transportation-related fatalities.
To help organizations protect workers, NSC recommends nine essential elements of a fleet safety program. The guidelines are chronological – an effective organization should complete step one before step two, step two before step three, and so on – and pertain to a variety of industries.
"You've got to have a program to protect your people," Solomon said. "A proper operating fleet is a great investment. It saves lives, prevents injuries and saves money – which adds to the bottom line." James A. Solomon, director of Defensive Driving Program Development and Training at the National Safety Council.
Element 1: Data Analysis And Problem Identification
Turn data into information. Turn information into action. Those are the first two recommendations for implementing an effective fleet safety program, according to NSC's Driver Safety Training initiative.
By identifying and analyzing high-probability factors that lead to crashes, organizations can develop targeted plans to reduce the risk. Factors to consider include a driver's record of traffic violations, weather conditions, road conditions, vehicle type, posted speed limits and drivers' hours on duty.
"Many companies mess up," Solomon said. "They don't keep their records all in one place. Maintenance has records because they work on vehicles. [human resources] has personnel records. Then, over here, you have insurance records. You've got to put them all together before you establish a program."
Element 2: Motor Fleet policy And procedure
A formal, written fleet safety policy statement eliminates room for confusion and conveys a clear message to all employees about the importance of safe driving. Policies should clarify rules about seat belt use, impaired driving, distracted driving (NSC recommends prohibiting all cell phone use – including hands-free devices – while operating a motor vehicle), how to report a collision, what to do in the event of a breakdown, and scheduled maintenance, among other issues.
Organizations also should consider establishing the circumstances for which an employee would be allowed to drive a work vehicle on personal time.
"It needs to be collaborative," Solomon said. "Include anybody that has anything to do with the vehicle. It can't just be H.R. It can't just be the fleet safety person. Whoever in procurement is buying tires, whoever is getting insurance, whoever is training drivers – they all have to work together because they all have a different piece to the puzzle."
Element 3: Obtain management commitment and support
Leadership commitment is essential to support all aspects of worker safety, including fleet management. Safety professionals can bolster the chances of executive buy-in by educating and training the management team about the direct and indirect benefits of maintaining fleet safety practices.
"Before you tell your employees, 'This is what we're doing,' management has to commit to it," Solomon said.
Element 4: Loss investigation
Remember: Handle post-crash interviews with sensitivity as the organization establishes causal factors and whether the crash was preventable.
"It's all about how do you investigate?" Solomon said. "If law enforcement writes it up, they're looking at who gets the ticket? The insurance person or risk-management person says, 'What do I have to pay?' Your picture is: Did this have to happen? How do I avoid this in the future?"
Guideline for establishing work relationship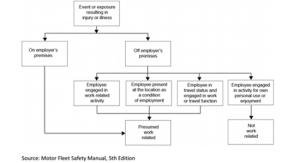 Element 5: Driver Qualification
Driving standards should be clear, concise and allow for organizations to monitor, evaluate and correct (if necessary) an employee's driving performance. NSC recommends that organizations follow four steps when writing driving standards:
1. Driver performance: Clearly explain what is expected of the driver.
2. Performance monitoring: Monitor and review driving records and other indicators.
3. Performance evaluations: Compare employees' performance against the standards and communicate with employees about areas of strength and/or weakness.
4. Corrective actions: Work with legal counsel to determine fair practices; many organizations use a progressive discipline process that includes remedial training such as defensive driving courses.
"Until you have all of the first four elements lined up, you don't need drivers," Solomon said. "But when you get to this point, you have to ask: How do you qualify your drivers?"
Element 6: Selection/maintenance/inspection
Although the fleet safety professional does not need to be an expert on all things maintenance,he or she should be well-versed enough to manage the process.
Keep safety in mind when selecting fleet equipment. Support the maintenance program, which may take place onsite or offsite depending on the organization.An effective fleet management process can help reduce crashes, maintenance and downtime while improving employee morale and the organization's public image.
"This element usually winds up in three different departments, and it shouldn't," Solomon said."This is the person who is buying the tires. This is the outside company that inspects the vehicles. This is the maintenance person who goes, 'Ever since we switched brands of tires, I've had more side-wall blowouts than in the last five years.'
"That's why it says selection/maintenance/inspection. They've all got to talk to each other.What is it you need? What is it you don't need?"
Element 7: Driver Training
Hiring the ideal candidate is important for an organization's success. So, too, is training employees to learn new skills and improve their existing skills. NSC's "Motor Fleet Safety Manual" recommends establishing four types of training:
New hire training: For all incoming employees.
Refresher training: Less formal training that can be presented in alternative formats such as safety posters, dash cards and brief speeches to reinforce best practices
Remedial training: For drivers who have had an infraction or were involved in an incident
Ongoing or annual training: For all drivers, typically combining classroom instruction and behind-the-wheel instruction to discuss new equipment, changes in procedures, updates pertaining to regulatory compliance, etc.
"At this point, I've got a vehicle," Solomon said. "I've got a driver. Now, what do I do for a new driver coming in? What do I do if I'm changing equipment? For example, if I've had standard braking or power braking, and I bring in air brakes, I need to retrain all my drivers about how to drive with air brakes."
Element 8: Compliance
Determine which government agency has authority over the organization's activities. Learn what requirements leaders face under the law. Be aware that state traffic laws may be different, which means workers in freight, sales and other operations that require interstate travel should understand the nuances of each state and local jurisdiction.
Compliance audits may vary depending on whether a fleet falls under Department of Transportation regulation. Regardless, such audits create opportunities for organizations to make improvements.
"Who makes the rules for my operation?" Solomon said. "Is it federal? Is it state? Is it county? Who do I have to report to?"
Element 9: Goal Setting
Goal setting allows organizations to set a direction for their fleet safety programs. Goals can be specific to an individual or apply more broadly to a team.
"Goal setting is way down at the end," Solomon said. "Before I ever get there, I've got to have all of the policies and all of the procedures. If a company doesn't have that and they build from the middle, OK, fine, but they're going to have to go back and retrofit things to get it going forward."
Learn more about Fleetwatch Systems Driver Safety program ..Contact us at 1-800-515-9902 or email us ; services@1800howsmydriving .com