FleetMinder™ GPS Cold Chain Tracking Solutions
Monitor Critical Temperature Data with Real-Time GPS Tracking Technology.
The FleetMinder TempDefender system provides real-time monitoring of refrigerated temperature data and continuous GPS tracking on the movement and activity of your fleet.
The FleetMinder TempDefender system was specifically designed and developed for the Refrigerated Transport Fleet and offers a large suite of temperature reporting, monitoring and alerting tools. Temperature alert notifications are generated when the container temperature exceeds specified high and low set points determined by the end user. Additional alerts include notification if the device is disconnected from its power source (requires optional back-up battery), and whether the reefer temperature controller is turned on or off.
The Fleetminder TempDefender system also provides fleet tracking data in real-time, such as current location and indicates whether the vehicle is stationary or moving. In addition, speed, stop, and geofence alerts are available, as well as numerous fleet activity reports.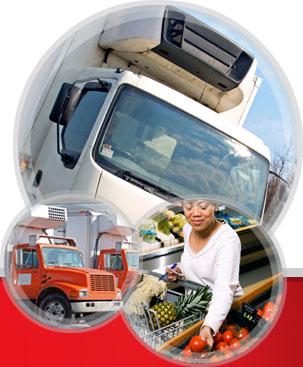 YOUR PARTNER IN ROAD SAFETY
Click here for info on FleetMinder™ Asset & Equipment Solutions
Click here for info FleetMinder™ GPS Cold Chain Solutions
Features
⇒ On-demand locating
⇒ Real-time temperature data
⇒ High set temperature alerts
⇒ Low set temperature alerts
⇒ Active monitoring – 24/7/365
⇒ Power loss alert
⇒ Bread-crumb trail
⇒ Alert management
⇒ Automated geo-fence technology
⇒ Maintenance notifications
⇒ Unauthorized movement notification
⇒ Industrial water resistant enclosure
⇒ Back-up battery (optional)
Benefits
⇒ Fast and accurate critical temperature data
⇒ Real-time logistical monitoring and tracking (location, speed, direction, ETA, and more)
⇒ Reduced shrinkage and spoilage problems
⇒ Lowered cost of product waste
⇒ Improved operational efficiency
⇒ Improved driver awareness
Our Solutions
1. Asset & Equipment Tracking Solutions
2. FleetMinder Cold Chain Solutions
3. FleetMinder Cargo Surveillance
4. FleetMinder Personnel Surveillance
5. FleetMinder CellControl-Monitor Program